Pop-in Visits
If you're looking for someone to check on you or your loved one at lunchtime, our Pop-in Visits might be just what you are looking for!
About the service
Pop-in Visits are five minute lunchtime visits, which can help you to feel safer in your home and provide you with the reassurance that someone will check in on you on the days you want. This service is currently only available in Hertfordshire. Our Pop-in Visits can include the following:
Regular contact with a friendly face
Making sure you are okay
Making you a drink
Contacting someone on your behalf if you are not feeling yourself
Checking on something specific, such as making sure that you are wearing your community alarm pendant
Medication Prompts, if required. Click here to find out more about Medication Prompts
Pop-in Referral Visit Form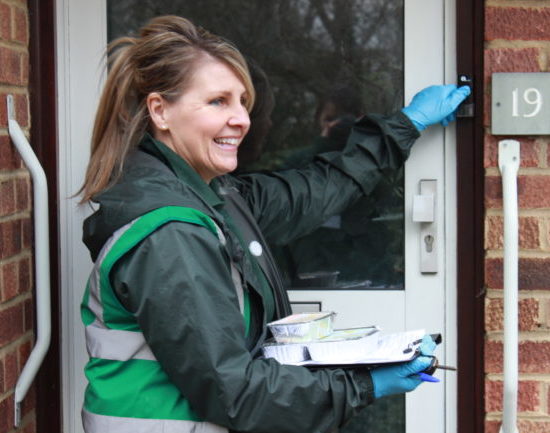 Service Information

When and where?
Visits are made between 11am and 2.30pm every day.
We cannot give you an exact time, but generally we will be with you around the same time each day.
We can come to your house, anywhere in Hertfordshire, 365 days a year.
You can have a visit on as many days as you like, as a one-off, or temporarily (for example, while your carer us away, or if you are recovering from an illness or injury) – just let us know.

Price & Payment
£5.00 per visit
We will send you a bill for the Pop-in Visits you have received at the end of every month. You can pay by:
Debit or credit card over the phone
Cheque
Postal order
We cannot accept cash.

Changing your visits
You are able to change or cancel your visits at any time.
Please let us know by 10.30am if you need to change or cancel your visit for the same day to avoid being charged.
How to get started
Anyone in Hertfordshire can receive Pop-in Visits, and if you refer before 8.30am, you can receive a visit that same day.
If you would like to refer yourself or someone you know for Pop-in Visits, please complete the form below.
If you would like a paper form posted to you, or if you would like someone to complete the form with you over the phone, please contact hertsmeals@hils-uk.org or call us on 0330 2000 103 and press option 1, then option 1 again.
Pop-in Visit Referral Form