With a fleet of 76 vehicles delivering around 1,600 meals every day, reducing our environmental impact is no easy task. However, as a social enterprise, success means always seeking new and better ways to deliver social good – and that means finding ways to 'go green' while still delivering vital services to older and vulnerable people.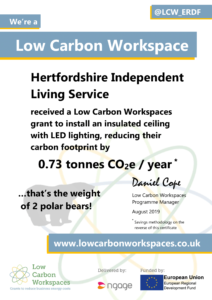 From small beginnings with just two full-time employees and five vehicles, HILS has grown to become the country's largest charitable meals on wheels provider with over 250 members of staff and around 2,500 meals clients at any one time. This rapid expansion means we have been able to increase our social impact by reaching more people and delivering new services.
But making an impact isn't always positive! When it comes to the environment, we should all try to minimise our impact, and HILS is aiming to do just that.
HILS' mission to 'go green' began in 2018, when we expanded our offices into a new building in Letchworth to accommodate our growing teams. As a former industrial unit, energy efficiency had sadly not been prioritised by former tenants. With high ceilings and little insulation, this new space was leaking a significant amount of heat. Installing false walls and a new energy efficient boiler helped to improve temperature control, but the worst culprit was the high ceiling that was responsible for around 25% of the heat loss.
A lower, suspended ceiling was the solution, but at over £6,000, it was quite expensive. Luckily, a fantastic scheme exists to support businesses like HILS to reduce their carbon emissions by making simple changes to their work environments. The Low Carbon Workspaces Grant (LCW) offers funding to small and medium-sized enterprises to subsidise up to a third of the cost of their energy-saving projects. HILS was successful in obtaining a grant for the suspended ceiling and LED lighting to replace the inefficient fluorescent lights installed throughout the new unit. One year on and these changes have helped to reduce our carbon emissions by 0.73 tonnes per year – that's the weight of two polar bears!
Since winning this grant, we have also been looking at other areas of the business where small changes could make a big difference to the environment. A third of our London Independent Living Service fleet has already gone electric, with a project underway looking to roll this out in Hertfordshire as well. HILS is also exploring ways to reduce our plastic bag usage by trialling a 'bag return scheme' to ensure that all HILS plastic bags are reused.
If you would like to find out more about what HILS is doing to reduce its environmental impact simply sign up to our quarterly newsletter, or follow us on social media.