As not-for-profit organisations, Hertfordshire Independent Living Service (HILS) and Small Acts of Kindness exist to help older and vulnerable people across the County. With Coronavirus disproportionately affecting the elderly, a significant number of the people we help have found themselves experiencing loneliness, anxiety and feelings of depression as they continue to follow government guidance and avoid social contact. Prompted by our growing concern for our clients' mental health, we teamed up Small Acts Of Kindness to produce thousands of wellbeing packs to provide much needed comfort at this time of crisis.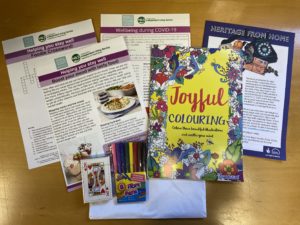 In March, the UK government instructed all over 70's to remain at home. With over 50% of over 65s believed to be living alone, and 1.2 million over 70's are reported as experiencing chronic loneliness, charities and public health professionals have been warning of concerns to the long-term health of older people as they continue to isolate themselves. Age UK has reported an 88% rise in calls for support.
As the County's meals on wheels provider supporting over 4,000 older residents every year with hot food provision, our Community Team members have witnessed these effects first-hand.
'Because our meals on wheels service is a life-line for so many older people, our teams have continued to visit people to deliver food – so they were seeing how difficult it was for some of our clients to stay isolated at home,' Says HILS Chief Executive, Sarah Wren. 'It was heart-breaking for our teams to have to stay far away, and give clients meals at the door when they are used to popping in for a chat. But they knew that this was necessary to help keep clients safe.'
'When the lockdown began, I couldn't quite believe it', says HILS client, Maureen. 'The feeling of isolation is really very bad – not being able to have a friend round for a cup of tea is hard.'
Since the beginning of lockdown, HILS has been sending out wellbeing information and activity booklets to all our clients. However, by teaming up with Small Acts of Kindness, we were able to combine resources and develop a far more substantial pack catering specifically to mental wellbeing. We were also delighted to receive support from a variety of funders, including: Hertfordshire Community Foundation, Friends of the Jubilee Centre, St Albans District Council, St Albans Older People's Trust, and Hertfordshire County Council Locality Budget Grant scheme.
'We already work with Small Acts of Kindness to distribute their Winter Warmer Bags to our clients every year – they always go down well, everyone loves the blankets, and fluffy socks, and tasty hot drinks sachets', Says HILS Project Manager, Eloise Rivlin-Derrick. 'So it was great to combine forces again to produce a gift bag with useful goodies direct to their door. Many older adults have no access to the internet, and so have been disconnected from the resources that have supported many of us throughout lockdown. We worked with mental health professionals to ensure that these gifts catered to the specific challenges they have faced during the pandemic and let them know that their community is here to support them.'
Each pack included a colouring book and pens, a pack of cards with suggested card games, literature with puzzles, word searches, mindfulness exercises, and useful contact numbers for other support organisations. A separate pack was also developed for people with hearing or sight impairment which included large print literature, and a soothing lavender-scented neck wrap.
We invited our clients to share their thoughts on the packs by filling out a short survey – and the results have been extremely positive.
'How wonderful to have a present dropped to my door like this', said one client. 'This has made my day!'
'I used to play cards when I was younger and have no idea why I stopped,' said another. 'Well I have enough time at the moment, so I will try to revisit my youth!'
'It was nice to know I was being thought about,' said one of our clients who received a tailored for people with sensory impairment. 'The neck wrap was really nice. I've saved the information on Herts Vision Loss as it will come in handy!'
'These wellbeing activity and gift bags have been a source of happiness for thousands of older people for whom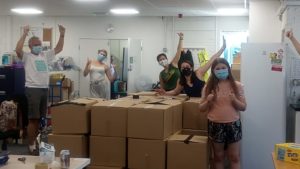 lockdown and isolation is taking a big toll.' Said Lynne Misner, Chief Executive of Small Acts of Kindness. 'Not only are they useful, they are also a little and welcome reminder that people care – something that matters so much to an age group who have been hidden from view for so many months and are beginning to feel forgotten. We are proud to have been a part of this project and delighted that it is reducing isolation and loneliness and connecting communities with kindness."