HILS aims to support older and vulnerable people to stay happy, healthy, and independent at home for as long as possible through the provision of preventative support services. As part of our work, we have the privilege of collaborating with fantastic partners from across the country. This year, we are delighted to be working alongside our colleagues at HomeHealth on a research initiative that could help provide our clients and vulnerable people across the United Kingdom with even more vital support.
We are delighted to share this article from HomeHealth's Research Fellow, Sarah Kalwarowsky, as she discusses how HomeHealth is working to improve the health and wellbeing of older and vulnerable people.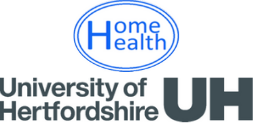 For many older people, day to day life can be challenging. From increased frailty to unintentional weight loss, deterioration in health and wellbeing often leads to further complications, a lack of confidence and social isolation.
While many organisations are offering invaluable support and provision for those that need it, researchers at the University of Hertfordshire, University College of London, and the University of Leeds have come together to trial a new service called HomeHealth.
What is HomeHealth?
Designed with the help of scientific studies and input from older people, carers, and healthcare professionals, HomeHealth is a service that aims to support older people to maintain their independence and health by developing personalised support plans.
The HomeHealth service is delivered by HILS, through six home visits or remote appointments. HILS then work closely with participants to develop a tailored programme of support and advice, which is based on what the individual wants to focus on. While it may look different for each person, the programme could include:
developing a home exercise programme to increase energy and muscle strength
finding ways to manage things that are becoming more of a struggle
looking at ways to improve diet to keep up energy levels
helping individuals to develop a plan for maintaining their progress
How did HomeHealth start?
HomeHealth began with an 18 month pilot study. This was a fantastic opportunity to assess the potential for this service and showed promising results. We saw positive impacts on participants independence, muscle strength, and wellbeing.
One of the pilot participants said:
Rather than thinking, 'Oh this is the end of life, we're just going to sit here until it's over' … You start thinking, 'Right, this is not me, we're not letting things go, I've got to pick myself up.' … it all came at the right time for me. (Female participant, 72 years old)
Researchers are now doing a randomised controlled trial to see how these initial results compare with previous findings.
How is the service being trialled?
Participants will have an initial appointment with a researcher to gain an understanding of their current levels of health and wellbeing. They then meet with the researcher again at 6 months and finally at 12 months. This allows the researchers to identify any improvements throughout the study.
After their first appointment with the researcher, half of the people who take part in the study will receive the HomeHealth service alongside their usual care and the other half will continue without further intervention. Participants will be assigned to each group at random so that the groups can be compared fairly.
Who is HomeHealth for, can I take part?
The HomeHealth service is for people aged 65 and over who are beginning to find it difficult to do the things they like to do for themselves.
For example, you may be:
experiencing bouts of low energy
noticing muscle weakness
losing weight unintentionally
finding it hard to get around
finding your everyday activities more difficult.
If you are interested in participating in the HomeHealth, you can find out more and register your interest by contacting me, Sarah Kalwarowsky, on 07823 686 071 or via email: homehealth@herts.ac.uk.
We look forward to hearing from you!