The 2019 SME National Business Awards were held at Wembley Stadium on 6th of December. The ceremony saw some of the most enterprising and innovative small and medium enterprises (SMEs) from across the country gather to celebrate their achievements, and was hosted by TV presenter, Layla Anna-Lee.
Hertfordshire Independent Living Service (HILS) arrived at the ceremony as a finalist in two categories: Not-for-Profit of the Year, and Best Enterprising Business of the Year, and were delighted to take home the Not-for-profit of the Year: Gold Award.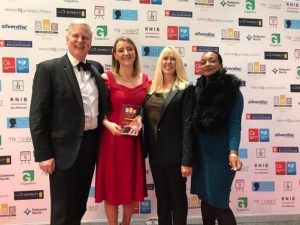 'We are thrilled to have been recognised as the SME National Business Awards' Not-for-Profit Business of the Year', said HILS Chief Executive, Sarah Wren. 'I would like to thank our amazing teams for their contribution to this achievement, and for going the extra mile every day to help older and vulnerable people stay happy, healthy, and independent in their homes. At HILS, we aim to provide innovative services which meet the changing needs of our community and create real social impact through enterprise.'
The judging panel consisted of senior professionals from a wide-range of organisations including the Business Times, Clydesdale Bank, and the Royal National Institute of Blind People.
'Hertfordshire Independent Living Service submitted a strong entry showcasing a social enterprise that demonstrates financial sustainability while finding new ways to deliver social good', said the judges.
To find out more about this award, visit the SME Awards Website.