We are delighted to announce that Cuffley Day Care Centre has become the most recent addition to HILS' range of community-based services that help people to get together. This well-loved service has been running for over 20 years and supports older people to make friends while enjoying fun activities.
On Monday 3rd April, a celebration with music, dancing, and cake marked the official handover of the well-established Cuffley Day Care Centre to HILS.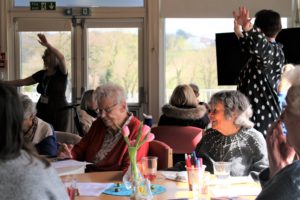 The successful launch featured a live performance from a local singer who had everyone on their feet and dancing to classics from the '20s through to the '90s. Attendees also enjoyed a delicious roast dinner followed by cake.
'What a fantastic way for us to welcome the clients, volunteers, and team members, who have made Cuffley Day Care Centre into such an incredible community asset', said HILS Chief Executive, Sarah Wren.
'We are very excited to be taking this next step into the future together and we can't wait to reach even more people who might benefit from this service.'
The centre runs Monday to Friday 10am – 2pm and also provides delicious hot lunches. Clients enjoy quizzes, bingo, arts and crafts, gentle exercise sessions, and regular live music performances.
Would you like to come along or get involved? Contact our friendly team on 01707 876616 or visit the website for more information: Cuffley Day Care Centre