We celebrated Meals on Wheels Week from 31st October – 4th November with a jam-packed week full of inspirational stories, visits from councillors and key partners, and health and wellbeing sessions, all centred around our vital meals on wheels service.
Longstanding champions of meals on wheels, the National Association of Care Catering (NACC) host Meals on Wheels Week each year to highlight just how essential meal provision services are and the impact on individuals in need throughout the country.
With concerns around the cost-of-living crisis and pending austerity measures spreading across the UK, meals on wheels services are at the crux of community support.
What's been happening at HILS?
Sarah Wren, Chief Executive, tuned into the NACC webinar to discuss all things meals on wheels, whilst our Community Nutritionists and Active Ageing Exercise Specialists delivered health and wellbeing talks to professionals, covering the social enterprise's holistic approach to supporting older and vulnerable people.
Councillors and professionals across Hertfordshire also joined drivers for a first-hand, frontline experience of the 365-day meal delivery service.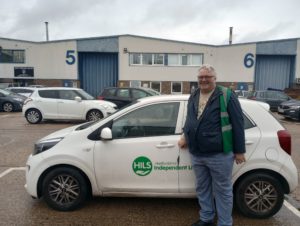 Steve Wortley said 'I experienced one of my most rewarding and fulfilling days in 8 years as a councillor today. Huge thanks to Phil, Will and my superb driver and wingman Jamie, we
delivered numerous hot meals to elderly residents in Cheshunt.'
HILS West Sussex was also featured on one of the county's local radio stations, 107 Meridian FM, during Meals on Wheels week. Sarah Wren joined Samantha Day during her "Open for Business" slot to highlight the importance of Meals on Wheels Week and to introduce the listeners to HILS, letting them know that we are now delivering the meals on wheels service for West Sussex County Council.
What a great week full of activities and meals on wheels rounds!
Thank you to everyone who came to visit HILS, as well as the HILS team for their hard work.