8 December – Version 20
In response to the evolving situation concerning COVID-19, Hertfordshire Independent Living Service (HILS) will carry on taking proactive measures to safeguard our teams and clients, whilst continuing to provide vital services in the community.
All our services are delivered in a COVID-Secure manner. This enables us to continue offering support to older and vulnerable people across Hertfordshire. Being COVID-Secure means that we have introduced measures to safeguard our clients and team members.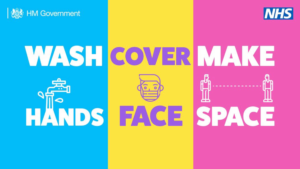 Our COVID-Secure measures include the use of face masks and special personal protective equipment (PPE) to protect clients and team members. All team members are required to report to us and to self-isolate if they develop any coronavirus-related symptoms (new persistent cough, fever, sudden loss of smell and taste).
As frontline health and social care workers, all HILS staff members are supported to receive the COVID vaccine.
We are speaking regularly with public health experts and other key partners to ensure we are following government guidance in the best way possible. We continue to monitor this situation closely and to respond appropriately.
What is 'Test and Trace'?
The NHS has implemented a 'Test and Trace' system. This is designed to trace the spread of Coronavirus. If you test positive for COVID-19, the NHS Test and Trace service will ask you to give details of anyone you have recently been in contact with, and any places you have recently visited. It is important that you give them the information that they need as accurately as possible. If you are a HILS client (or live with someone who is a HILS client) and have been contacted by the NHS Test and Trace service because you have been in close contact with someone who has tested positive, you must inform us straight away by calling the Coronavirus Helpdesk on 01462 887181. They will advise you on what actions to take.
A genuine contact tracer will never ask you to disclose bank details or ring an expensive phone number beginning with 09 or 087.
Click the table to enlarge.