St Albans-based photographer and digital illustrator, Tom Rushmer's coronavirus-inspired artwork was recently selected amongst thousands to feature on Channel 4's new show, Grayson's Art Club. Following an unexpected demand for printed copies, Tom decided to give back to the community by donating 40% of the proceeds to Hertfordshire Independent Living Service. We sat down with Tom (virtually of course) to discuss his inspirations, lockdown, the show and how he came across HILS.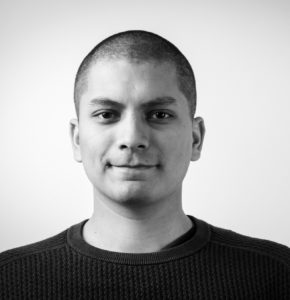 How did you first become interested in art?
As far back as I can remember, art has always been a passion. I think my earliest memory was at the age of five, my parents gave me some paper and a pencil and told me to draw my surroundings, probably just to keep me entertained for a few minutes. But when I finished they realised that actually it was pretty good, and had definitely earnt a spot on the fridge! It all kind of progressed naturally from there. Now I am a Graphic Artist specialising in Event Photography, Videography and Digital Illustration.
How has the Coronavirus lockdown affected you and your creativity?
I have to say in terms of my creativity, lockdown hasn't made too much of a difference. I've been working from home for around a year now, so I'm quite used to it all, but if going for walks wasn't an option then I definitely wouldn't be coping as well! I work three days a week as a graphic designer so that work continues, but on the days that I'm not working, the lockdown has given me time to draw a bit more than I usually would. I try to draw a new piece at least once a day, just to keep my skills up. The saying 'practice makes perfect' is so true, any time I take a break from creating art I'm always a little rusty when I go to pick it up again.
What inspires you?
I draw a lot of my inspiration from classic art techniques such as fauvism, manga, 90's cartoon and sci-fi literature. Sometimes inspiration simply comes from my surroundings, like when I'm just going for a walk. I have to say music is also a huge influence, my grandad was a musician so music has always been a big part of my life.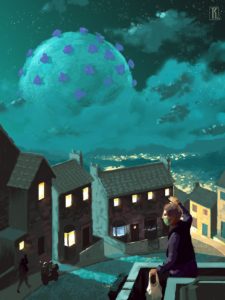 What inspired you to do your winning piece for Grayson Perry's Art Club?
Grayson's Art Club is a show aiming to exhibit artwork from artists across Britain as well as inspire the nation to get creative during lockdown. My parents had been watching the show and they were actually the ones that suggested I submit something, so I kind of thought well why not and a week later I got a call from the producer!
The piece in question was actually created two weeks prior to the airing, but it ended up fitting in so well with the theme of the show. The virus plays a major inspiration but also seeing how people are so willing to look after one another has it place in the piece too.
What did Grayson Perry say about your artwork?
He called it "…a sci-fi vision of what we're all doing at the moment."
What has happened since the show?
Well after it aired, I tweeted about how happy I was! The tweet gained a lot of likes, along with a lot of requests for prints. Creating prints is new to me, so I've had to really get up to speed quickly. There's so much involved from what type of paper, to appropriate packaging and picking the best courier, but I'm lucky to have a lot of friends in the industry that I can get advice from.
What made you decide to give some of the proceeds to HILS?
Like many people, my girlfriend and I have been supporting neighbours through the pandemic, so we've generally been really inspired to support the community during this time. When the prospect of selling art came up, I started looking for a local charity I could donate a portion of the sales to and that's how I came across HILS. When I read about your meals on wheels service, I thought it coincided really well with the piece itself. You'll see that the man is waving at an anonymous delivery driver as he drops of his shopping, so it felt relative. I think what you guys do is fantastic supporting those who are most vulnerable at this time, it really is amazing!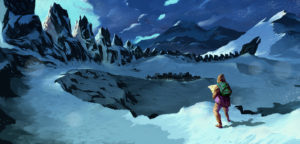 To purchase a copy of Tom's 'Covid-19' illustration email: tomrushmerphoto@gmail.com, you can also see more of his artwork by clicking here.