Earlier this year, HILS launched a new service to help care home staff provide excellent nutrition support to their residents.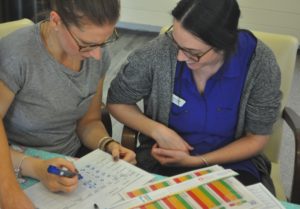 Working in partnership with Herts Valleys Clinical Commissioning Group and the Hertfordshire Integrated Nutrition and Dietetic Service, our Nutrition Awareness team have visited over 50 care homes across the west of the county to assess their nutrition knowledge, provide tailored training sessions, and award accreditations to outstanding homes.
This new service is entirely free and can be accessed by any care homes located in Dacorum, St Albans, Watford, Three Rivers, or Hertsmere, which cater for older people, or people with learning disabilities.
'For years now, we've been seeing first-hand how something as simple as good food can really change people's lives. It is a privilege to be partnering up with the NHS and care homes to make sure that people get the best possible care. We're thrilled, and so excited for what's to come!' says Sarah Wren, HILS Chief Executive.
Feedback from care home staff has so far been fantastic, with average ratings for training at 9.8/10.
'I now feel more confident in introducing new foods', commented one participant. 'If a resident is losing weight, I know I can do something by making small changes to their food and drinks.'
'We have been so impressed by the creative ideas in care homes', says HILS Nutrition and Wellbeing Visitor, Phoebe Markwick. 'From snack walls, pop-up restaurants, even a pretend pub…there are too many to name! It's important that care homes are praised on the things that they are doing well, and we can help them with areas they want to improve on through our training.'
The number of homes who have received an accreditation is growing every day. Grace Muriel House and Rosslyn Court were the first to be awarded certificates and can be seen below, receiving their bronze and gold accreditations at our service launch event in June.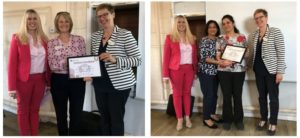 Sarah Nieberg, care home manager at Rosebery House, is one of the most recent homes to receive an accreditation. 'We were so delighted to receive the silver accreditation. The whole experience has been so positive and greatly appreciated', she says. 'We will continue to strive to make improvements, aiming for gold next year!'