We have been speaking to team members whose acts of bravery have helped keep our clients from dangerous and potentially life-threatening situations. Meet the HILS Heroes who have gone above and beyond to keep older and vulnerable people happy, healthy, and safe in their homes. 61-year-old Caroline Beatt is a HILS veteran, having worked as a member of the Hemel Hempstead Community Team for over seven years. But working as a meals delivery driver comes with its own challenges. Caroline knows this better than anyone, having recently been in the position to save someone's life.
Caroline's journey with HILS began when she was caring for a local elderly couple, who also received meals on wheels. Over the years, she became friendly with the Community Team members who delivered their meals each day. When the time came for Caroline to change jobs, she called our Hemel site to see if she could join HILS as a driver herself. Thousands of deliveries later, she has no regrets. 'Oh, I love it!' Says Caroline. 'I love the buzz, the people, and I love my clients. I have one client who's 95 and she has the most brilliant mind. She tells me such amazing stories about her life, she's so funny! We're both growing runner beans at the moment. Every time I see her, she asks how my runner beans are doing.'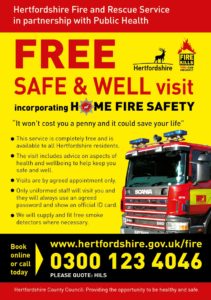 But it's not always easy supporting some of the most vulnerable people living in the community. Earlier this year, Caroline arrived at one of her client's homes and let herself in using their key safe. When she called out for the client and received no response, she became concerned and decided to take a look upstairs. Caroline found the elderly lady sat at the end of a bed next to her daughter, who was lying down and looking very ill. Caroline knew the client was living with dementia and was not able to explain what had happened. Unfortunately, the daughter was so ill, that she was also unable to say what was going on. Thinking quickly, Caroline alerted the HILS Support Team before contacting 999 and asking for an ambulance. While she waited, Caroline put the client's daughter in the recovery position and did her best to calm the client. By the time paramedics arrived, the client's daughter was unconscious. When they began bringing out their medical equipment, Caroline could see that her client was becoming very distressed, so she took her downstairs away from the noise and activity for a friendly chat.
Once the elderly client was calm and her daughter's partner had arrived, Caroline went upstairs to speak to the paramedic. He told her that the client's daughter had actually been on the verge of entering a diabetic coma and congratulated Caroline on her quick thinking – which had probably saved the lady's life!
With everyone safe and provided for, Caroline brushed herself off and continued with her meals round. Thankfully, life-threatening situations such as these do not happen every day. However, it is not uncommon for HILS Community Team members to come across difficult situations when our older and vulnerable clients (or their loved ones) need some help. 'I am immensely proud and privileged to be working alongside caring, dedicated people such as Caroline.' Says Sarah Wren, HILS Chief Executive. 'Our teams are helping thousands of older and vulnerable people every day to stay safe, happy, and healthy in their homes. It is wonderful to hear stories such as this one about how one person's actions can have such an incredible impact.'
As for Caroline, she has not let this incident dampen her enthusiasm for helping HILS clients. She has her sights firmly set on staying at the Hemel site until she can retire and fully commit herself to her runner beans.