HILS is delighted to announce that our Chief Executive, Sarah Wren, has been awarded an OBE in the 2022 New Year Honours list for her services to Older and Disabled People in Hertfordshire.
Sarah became Chief Executive of HILS in 2010, having previously been the chairperson of the board. Two years later she was awarded an MBE in the Queen's Birthday Honours for services to the community sector in Hertfordshire, and her work with a number of charities including HILS.
Having led the organisation for more than 12 years, Sarah has been instrumental in ensuring the development of services that continue to meet the evolving needs of our older community. In addition to achieving positive social impact locally, Sarah has often been involved in campaigning at a national level, including raising awareness of malnutrition and isolation amongst older people.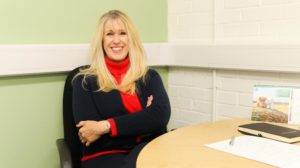 A decade on, the many achievements throughout her time with HILS have been recognised with an OBE.
Reflecting on her award, Sarah said:
"It is an incredible honour to have been put forward for, and awarded, this honour. This award recognises the extraordinary efforts and dedication of each and every one of my colleagues here at HILS. Without them and their consistent and caring approach to the needs of our clients, it would be impossible to achieve all that we have, working together to enable older and disabled members of our community remain happy, healthy, and independent at home".