As part of our Health and Wellbeing services, HILS provides nutritional support and tailored physical activity programmes to older and vulnerable people living in the community. Our Health and Wellbeing Client of the Season Award is an opportunity for us to celebrate our client's achievements, hard work and determination.
Staying Well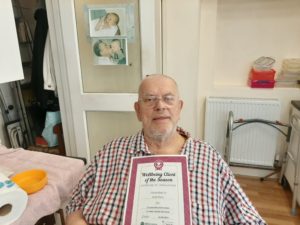 With the help of our Nutrition and Wellbeing Team, Derek has lost an amazing 3st 4lbs in one year, despite being isolated and low in mood during the lockdown period. Prior to receiving support, Derek was struggling to maintain a healthy weight due to poor drinking and eating habits. However, with the help of HILS and his dedicated carer Harriet, Derek has exceeded his own expectations making remarkable lifestyle changes.
Derek is delighted with this weight loss and is determined to reach his goal of being able to sit in a car as a passenger and to go on a country drive (previously he could only use hospital ambulance transport). His commitment to healthy eating has been inspiring, and despite mobility issues, always prepares himself a healthy breakfast and supper. Derek is making some great changes to his life, and we are delighted to see him reap the benefits and come closer to his goals.
Staying Active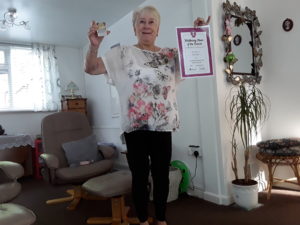 We would also like to celebrate Marilyn, who is only halfway through our Active Ageing programme and has already improved her mobility and balance tremendously. With a great deal of enthusiasm and determination, Marilyn is becoming more and more confident with her daily activities.
Marilyn faces several challenges ranging from breathlessness caused by asthma to hay fever, which often exacerbates her breathlessness, particularly in the summer months. While lower back pain and poor balance have dramatically limited her physical movement in recent years.
Marilyn has worked incredibly hard to improving her breathing using various techniques. She has incorporated several stretches and exercises into her daily routine to help improve her range of movement, flexibility, balance and most importantly to her, confidence.
Marilyn has made so many improvements, that even her neighbours have mentioned to her that she looks a lot better when walking her dog. Marylin is thrilled to do her housework with more ease, enthusing over how she cleaned all her inside windows without help!
We are so proud to celebrate our amazing clients Derek and Marilyn. We hope you will join us in congratulating them for their efforts as we award them as our Wellbeing Clients of the Season.