Arts, crafts, music, and dancing filled Friendship House in Hatfield to celebrate the 70th anniversary of the Queen's ascension to the throne. Set up in partnership with H'arts in Mind, a local charity who use art to improve the lives of those suffering from mental health difficulties, the festival celebrated friendship, community, and brought people together to get creative and commemorate the Queen.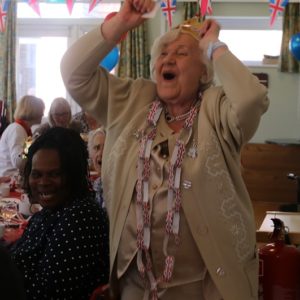 Bringing the community together
Clients gathered at well-loved Hatfield community venue, Friendship House, which reopened in December 2021 after pandemic closure. The day kicked off with art and crafts activities led by H'arts in Mind including bunting creation and crown-making, with a prize for the best crown of course! Local arts group, 'The Poetry Exchange' also shared inspiring poems and life stories. We were delighted to be joined by Cllr Richard Roberts, Leader of Hertfordshire County Council, and Cllr Tony Kingsbury, Leader of Welwyn Hatfield Council. Come lunch time, clients enjoyed a Jubilee High Tea – street party style – followed by a royal raffle and a jolly game of bingo!
Touching moments saw attendees shed a tear for the Queen, with one client over 100 years of age who could remember the coronation word for word. A real marker of the day was our community mural created in honour of the Queen. One client wrote, 'How wonderful to have had such a long reign, and to be here to celebrate your Platinum Jubilee. You are loved by all. God bless you.' Another client shared, 'The Queen has been there all my life and always served this country with great dignity. Through all her own personal troubles she has never wavered.'
After lunch, a magician created laughter and surprise before the day came to a close with a moving performance from local singer, Cara Bo. Many clients rose to their feet to dance to traditional tunes including The White Cliffs of Dover and Maybe It's Because I'm a Londoner, ending the day with the national anthem.
HILS celebrations didn't stop there – the community also gathered to honour the historic milestone at the Kingfisher Dementia Club at the Jubilee Centre in St Albans, also celebrating the Queen's reign with music, dancing, and a royal tea!
HILS would like to thank the Arts Council's Let's Create Jubilee Fund by Hertfordshire Community Foundation for providing funding for this special event.