From May 15th to 21st, HILS and colleagues across the sector held a variety of events and initiatives to raise awareness about dementia and mental health.
Dementia Action Week
This is the Alzheimer's Society's biggest and longest running campaign, which aims to raise awareness about the challenges faced by people living with dementia and their loved ones. This year's focus was on 'diagnosing dementia', as sadly diagnosis rates have dropped significantly since the COVID-19 pandemic.
HILS supports people living with dementia and their carers in a number of ways:
Through our meals on wheels provision: this enables us to reach people who have become isolated, or who need extra help looking after their loved ones; we also provide a range of texture modified foods which are great for people with chewing and swallowing difficulties, these are often associated with dementia;
Through our dementia support services: our Kingfisher dementia fun clubs and Hertswise services, that provide group sessions and one-to-one support.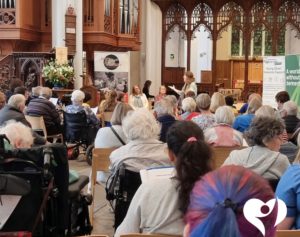 To celebrate this campaign, our Hertswise colleagues teamed up with Alzheimer's Society and Herts Musical Memories to put on a brilliant musical event at St Albans cathedral. They also had an artist from Creative Mojo join one of their groups to create forget-me-not arts and crafts with clients.
We also took to social media and attended an event organised by Carers in Herts to talk to carers about our services. One of the attendees already knew HILS very well, they told us:
"HILS do what they say they do. The drivers are so friendly and have helped my husband massively. They remove the worry."
Mental Health Awareness Week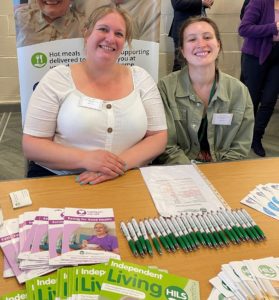 Mental Health Awareness Week was founded by the Mental Health Foundation in 2001.Making sure that our clients and colleagues are supported to enjoy good mental health and wellbeing is key to everything we do, so HILS was delighted to take part.
On Wednesday 17th May, we delivered a talk about our services to a support group organised by mental health charity, Mind, in Bishop's Stortford;
HILS staff also dressed in unison for Wear It Green day on the Thursday, to show solidarity and raise awareness about mental health;
HILS Health and Wellbeing Hub, Friendship House, had a compliment jar for clients and staff to write something kind on a slip of paper for others to pull out of a jar throughout the week.