Burton's Biscuits produces some of the UK's favourite treats – they are the genius behind childhood classics such as Jammie Dodgers, Maryland cookies, and Wagon Wheels. But in addition to delicious confectionary, Burton's also supports local charities to help them support vulnerable people and make positive changes in the community.
HILS is delighted to have been selected as Burton's Biscuits 2020 charity of the year and for their support in addressing two big issues facing older people today, namely: malnutrition and loneliness.
Around one in ten adults over 65 could be at risk of malnutrition, with over 90% of these cases affecting people living in the community. Loneliness and isolation can also have a devastating impact on people's wellbeing, with statistics from the Campaign to End Loneliness suggesting that the negative health consequences could be similar to smoking 15 cigarettes per day.
Throughout the year, staff at Burton's Biscuits will be volunteering to help at events at our Jubilee community centre in St Albans, and supporting key campaigns such as Malnutrition Awareness Week in October, and Meals on Wheels Week in November. They will also be helping us by providing biscuits.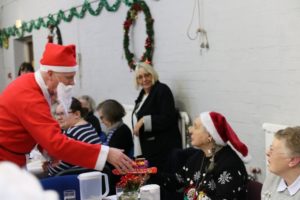 Biscuits are a good source of energy and a great addition to our social events, such as our 'talk over tea' sessions, where local people are invited to get together and make friends. In December, Burton's provided us with giftwrapped biscuits which we gave out to attendees at our annual Christmas party.
'We are thrilled to have been chosen as Burton's Biscuits Charity of the Year', says HILS' Lead Allied Health Professional and registered dietitian, Alethea Donnelly. 'Biscuits as part of a balanced diet can be a great source of nutrients and energy, especially for people struggling to maintain their weight. They are also a nice treat to share with other people – who doesn't like to share a cup of tea, a biscuit, and a chat?'
To keep up to date with our activities don't forget to visit our Facebook and twitter pages, or sign up to our quarterly newsletter by scrolling to the bottom of our home page.
If you would like to find out more about how you, or your organization, can get involved in supporting HILS, take a look at our fundraising page or contact comms@hertsindependentliving.org.