Throughout the COVID pandemic, Burton's Biscuits has supported HILS to continue helping older and vulnerable people. We are absolutely delighted that they have chosen to continue working with us for a hopefully much less turbulent 2021.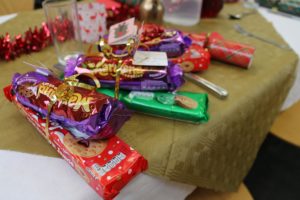 If you have ever eaten a Wagon Wheel, or a Jammy Dodger – you have eaten a Burton's biscuit. For nearly a century, Burton's has been providing us with some of our favourite teatime treats and savoury snacks. In the winter of 2019, Burton's Biscuits partnered with HILS to help combat two significant issues facing many older people living in the community: malnutrition and loneliness. They provided a range of fantastic confectionary and friendly volunteers for events being run out of our Jubilee Centre in St Albans, such as our 2019 Christmas dinner.
Unfortunately, shortly after this event, the country went into lockdown as a result of the pandemic. This meant that all the social gatherings, parties, and lunch clubs we had planned were cancelled. However, Burton's Biscuits continued to support us in any way they could. Throughout the spring and summer of 2020, many people were panic-buying and supermarket shelves were emptied of the essential items that we usually include in our Emergency Food and Grocery Packs. These packs are given free of charge to people in need and provides them with three days of food and groceries. Burton's not only gave us thousands of biscuits to include in our emergency packs, they also gifted us all the toilet roll supplies from their St Albans office!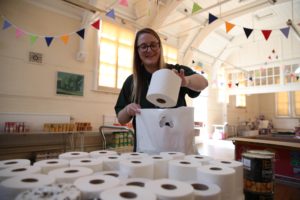 For Christmas, they also donated biscuits for our client gift bags, which were distributed to over 2,000 isolated older people.
'We are so grateful for all the help that Burton's has given us over the past 12 months', says Sarah Wren, HILS Chief Executive. 'They stood alongside us during one of the most difficult and challenging times most of us have ever known. With their generous support, we have been able to keep on providing essential services to people in need and helped to make them feel valued through gifts and treats. We are so excited for the year to come!'