We have been recognised as a leading social business, winning the Resilience Award at the national NatWest SE100 Awards Ceremony.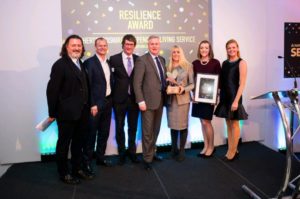 The Resilience Award is for social ventures that continually deliver positive social or environmental change and repeatedly achieve impact goals, keeping focussed on delivering their mission 'whatever the weather'. According to the judges, HILS has shown it has been 'exceptionally steady' by successfully tackling challenges and overcoming difficulties. Sarah Wren, Chief Executive of HILS, said: "We're delighted to have won the Resilience Award at the NatWest SE100 Awards this year. It's fantastic that the valuable contribution of sustainable social businesses is being recognised. This award will help us spread the word about our work, and our passion for providing caring services across Hertfordshire".
The NatWest SE100 Awards recognises social enterprises who have demonstrated some of the best business practice within the sector and celebrates the growth, impact, ambition, and resilience of social enterprises in the UK. The finalists were chosen from almost 1,500 social ventures on the NatWest SE100 Index – which tracks the progress and impact of social enterprises across the UK.
Rob Wilson, MP and Minister for Civil Society, supporting the awards, commented: "Social Enterprises across the country are making a positive impact on our society, and it's great that these awards have recognised the leaders in this sector across the UK. Congratulations to everyone involved. I hope their achievements will inspire others to help our communities and improve lives."
Rushanara Ali, MP for Bethnal Green and Bow, presented an award and congratulated the winners on their outstanding achievements. She said: "Social enterprises add a tremendous amount of value to both our economy and society. Their ambition and dynamism creates jobs, stimulates economic growth and provides a range of services to people across the UK. The different organisations awarded here tonight are excellent examples of how social enterprises make a real difference in our country every day."
The awards were hosted at the NatWest/RBS conference centre in London by Simon Jacobs, Chief Administrative Officer Commercial & Private Banking at RBS, and Chair of NatWest Social & Community Capital. Julie Baker, Head of Enterprise at NatWest RBS, praised the winners for their "determination not just to make money but to make a difference".
She told them: "We value what you do, both for the economy and for our communities. We want you to shout loud about your achievements because we want to demonstrate that social businesses are also good businesses. That's the whole philosophy behind the NatWest SE100."
Find out more about the awards here.